Key facts:
Authors: Katharine Elliott and Judith Timms
Top Tip: If you think of it, treat it. Missing it can lead to death or permanent brain damage
Bacterial/viral meningitis
Neuroinflammatory disease (eg SLE)
All acute cerebral diseases (epilepsy, CVA, coma, confusion and abnormal behaviour)
FBC, ESR, CRP
U+E, LFT, Bone, Glucose
ECG, CXR
CT ± LP (if no raised ICP; send for HSV PCR)
Note: both CT and LP can be NORMAL
IV (NOT ORAL) ACICLOVIR 10 mg/kg tds, for 14-21 days
(Reduce dose in renal failure)
IV (NOT ORAL) ACICLOVIR (may give even if CT and LP are normal, initially)
Background
If you think of it, treat it; it can take two weeks to prove it. Symptoms can be few and vague. Signs absent
The condition may be a primary infection or as the result of activation of the virus lying dormant (from a previous infection); spreading centripetally from cranial nerve ganglia to frontal and temporal lobes. It may develop in apparently well children without skin lesions. The outcome of this disease depends on early diagnosis and treatment

It is difficult to diagnose initially. So, if you think of it, treat it

It is often due to Herpes Simplex 1, which can cause meningitis, encephalitis or meningo-encephalitis. The latter two conditions are frequently severe, causing an acute necrotising encephalitis

INTRAVENOUS aciclovir should be administered empirically and attempts to establish the diagnosis made by examination of the CSF. The standard dogma that HSV is the commonest cause has been challenged. In a large Finnish study, it was found that VZV was underestimated, and HSV perhaps overestimated in frequency

Nevertheless HSV detection in viral encephalitis is still critical because there is effective treatment for it: Infections of the central nervous system of suspected viral origin: a collaborative study from Finland:

[Ref]
The distinction between meningitis and encephalitis is not as clear cut as it seems. Meningitis is a mainly meningeal condition (as the name would suggest) that can also affect the deeper cerebral tissue; causing some encephalitic inflammation. This may show itself as a reduced conscious level, fitting or 'cerebral irritation' (in which the patient looks a bit 'jumpy', with hyper-reflexia)
Whereas encephalitis is an inflammation predominantly affecting the deeper cerebral tissue; but can also cause inflammation of the more superficial meninges, causing the syndrome of 'meningism' (headache, neck pain, photophobia)
You can have both - ie meningo-encephalitis. For example, the same organism (eg HSV) can cause either condition, or both
Incidence: 2-5/million/year
Peaks 31-40 yrs
[Ref]
Herpes simplex 1 (90% due to HSV1 in immunocompetent patients; 10% HSV2; mainly in immunocompromised [Ref]
Other herpes viruses: varicella zoster virus (VZV), cytomegalovirus (CMV), Epstein-Barr virus (EBV), human herpes virus 6 (HHV6)
Adenoviruses
Influenza A
Enteroviruses, poliovirus
Measles, mumps and rubella viruses
Rabies
Arboviruses - eg Japanese B encephalitis, West Nile encephalitis virus
Bunyaviruses - eg La Crosse strain of California virus
Reoviruses - eg Colorado tick fever virus
Arenaviruses - eg lymphocytic choriomeningitis virus
Encephalitis
Meningo-encephalitis
Other illness
Immunsosuppression
HIV
Sunlight, menstruation
The symptoms may be vague, noticed by friends and family only
The history is vital
Never accept that the 'history is not available' for a confused patient; track down a relative or neighbour on the phone. Comments from relatives that a patient 'does not seem right', should not be ignored, even if the Glasgow Coma Score is 15; remember this is a very crude tool that was devised for assessing patients with head injuries
It can present in virtually any 'neurological way', sometimes abruptly, following a viral prodrome:

Headache/meningism, fever
Abnormal behaviour (from mild personality change (eg strange affect, maybe reported by family) to acute psychiatric disorder)
Acute confusion
Myelitis
Focal neurological symptoms or signs (can be dysphasic, aphasic or mute)
Generalised or focal seizures
Decreased level of consciousness
Note: NICE recommends in a child <5y, it should be considered the diagnosis of exclusion, with these last three presentations
"When did the symptoms start?"
"Have you been abnormally sleepy, confused recently?"
"Have you had a viral illness recently, especially 'cold sores'?"
There may be no signs
Meningism, fever
Myelitis
Focal neurology/speech disorder
Seizures
Reduced conscious level
Investigation
All patients with a febrile illness and altered behaviour or consciousness should be investigated for CNS infection (CT/LP), unless there is very clear evidence of another diagnosis
FBC, ESR, CRP
U+E, LFT, Bone, Glucose
ABG, if unwell
ECG
CXR (?aspirated if fitted)
CT; if impaired consciousness, signs of raised ICP or focal signs then a CT of the head should be done before LP (and no LP done, if brain is 'tight')
Note: in HSV encephalitis there may be low attenuation lesions in one or both temporal lobes. There may be diffuse brain oedema (MRI more sensitive to these changes)
LP:

mild-moderately increased cell count (5-500), mostly lymphocytes .. or NORMAL (5%)
mildly raised protein (0.6-6.0 g/L)
normal glucose (vs bacterial meningitis)
no organisms on Gram stain
HSV PCR; may detect viral antigens; can take 72h to become positive
Note: false -ve HSV PCR usually encountered if CSF collected too early (can take 8-24h to become abnormal after onset of symptoms), too late (after 10-14 days), after aciclovir therapy, or if there was a long delay in processing the sample that was stored inappropriately after collection
Note: all these changes are unreliable, so do not let initial CT/LP affect treatment, if you have a high index of suspicion
MRI; more sensitive than CT at detecting early encephalitic changes

This MRI show symmetrical bilateral putaminal vasogenic oedema with mild restriction on diffusion and no bleed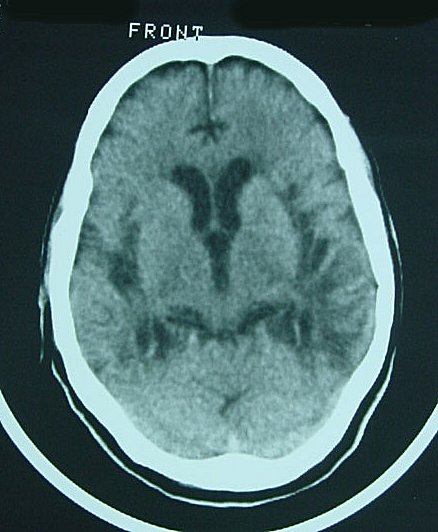 Possible sequelae

EEG; in HSV, there may be generalised slowing and bursts of high-voltage slow wave complexes, particularly over the temporal lobes
Note: these changes are unreliable, so do not let MRI/EEG affect treatment, if you have a high index of suspicion
Brain biopsy; occasionally needed
Bacterial/viral meningitis
Neuroinflammatory disease (eg SLE)
All causes of epilepsy
All causes of stroke
All causes of comaAll causes of acute confusion
All causes of acute abnormal behaviour
Brain abscess
Subarachnoid haemorrhage
Migraine
TB
Treatment
Encephalitis is rare. But patients with CNS problems who MIGHT have viral encephalitis, are not. So, if in doubt, treat, until an alternative diagnosis comes out
Drugs
IV (NOT ORAL) ACICLOVIR 10 mg/kg tds for 14-21d (reduce dose in renal failure); many clinicians stop Rx too soon - resulting in a relapse
± IV CEFTRIAXONE 2 g od; ie, you should have a low threshold for covering bacterial meningitis too (especially if has been given prior AB, by GP)
Procedures
IV (+fluids, if dry)
OYXGEN, if hypoxic
IV (NOT ORAL) ACICLOVIR (may give even if CT and LP are normal, initially)
Immunosuppression (after DW prescriber)
Drugs
If not responding within 24h, DW Microbiology/Virology
If suspect raised ICP, consider
IV/O DEXAMETHASONE 10 mg stat, then 4 mg qds
± IV MANNITOL
± decompressive surgery (eg shunt), if hydrocephalus develops. These are all specialist decisions
Note: another cause of raised ICP is haemorrhage into necrotic tissue
Procedures
If unwell, urinary catheter, CVP line, arterial line
Only use INTRAVENOUS ACICLOVIR; and for a long course (14-21d); reduce dose in renal failure
Medical admission ward
Neurology
± ITU
Medical
Neurology
Microbiology (± infectious disease, and/or virology, if you have a service)
± ITU
The Rest
"If you miss viral encephalitis, the consequences will be disasterous .. for everyone (see complications"
Permanent brain damage, causing:
Weakness (eg hemiparesis)
Behavioral and emotional (personality change)
Cognitive (memory, speech)
Sensory (vision, hearing)
Some patients who experience memory problems and personality changes afterward describe their condition as being an 'invisible disease'. They appear to be normal to others, but they are plagued with forgetfulness and lapses in attention; this has a considerable affect on their Quality of Life (QoL)
Note: the degree and type of brain damage can vary from mild-to-severe and from focal (in one part of the brain) to multifocal (several parts of the brain) to diffuse (throughout the brain)
Epilepsy
Poor if Rx delayed
20% mortality (70% untreated HSV)
Patients with HSV elsewhere (eg oral) should be prewarned to seek medical help urgently, if they become generally unwell, confused or drowsy
Presentation very variable; from mild affect change to coma
If in doubt, cover bacterial meningitis as well
HSV PCR can take two weeks to come back
IV (NOT ORAL) ACICLOVIR 10 mg/kg tds, for 14-21 days (LONG COURSE)
References